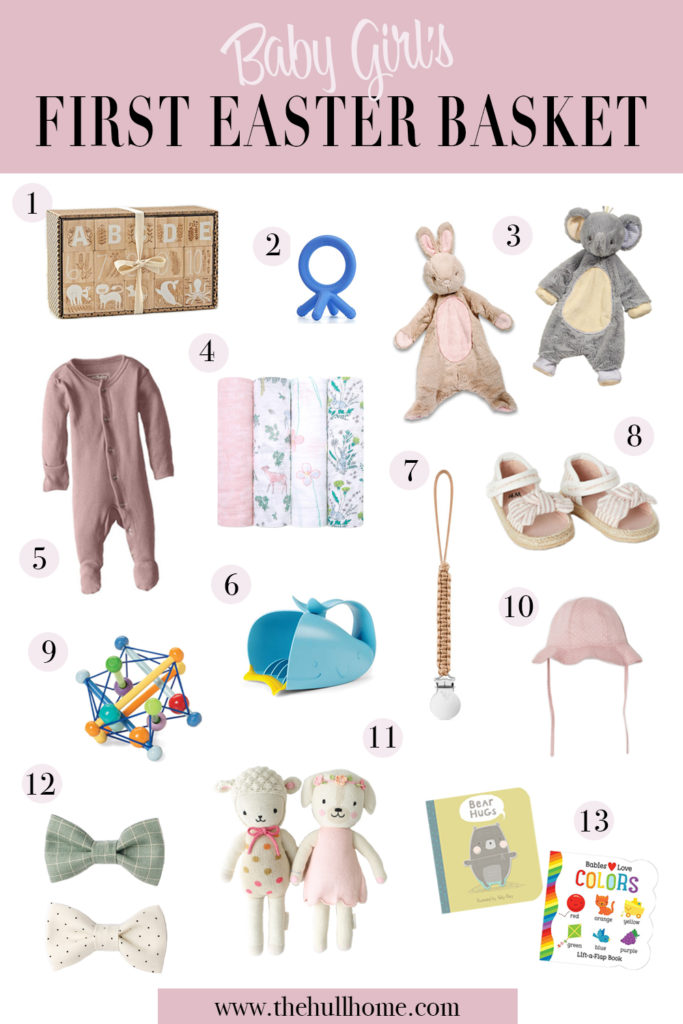 Easter weekend is almost here! It is our first Easter with a baby and I couldn't wait to throw a gift basket together. I thought I would share some of the things that we picked out for our little girl. When creating an Easter basket for a baby there is an easy guideline to follow:
#1 – Pick something soft and cuddly.
I found these Sshlumpies at a local children's store before we knew if Lorelei was a boy or a girl and I told myself I would go back and pick one out once we knew. Of course, by the time I made it back they were all sold out. Luckily, I found them on Amazon! I couldn't resist getting the sweet pink bunny for her Easter basket. And let me tell you, they are SOFT. She immediately fell in love with hers. They make sick days just a little bit better.
These Aden and Anais swaddle blankets also make a great soft and cuddly option. Nothing makes my child more excited than snuggling and playing with a soft blanket. Plus, how cute are these girly designs?
#2 – Choose something fun and colorful.
Bright colors are not my favorite to decorate my home with, but they are essential for a child's development. I love that this grasping activity toy comes in different color options to fit your lifestyle while encouraging motor skill development!
#3 – Get a few useful items.
The large majority of the basket should be useful items for your baby. However, this doesn't mean they can't be adorable! The L'ovedbaby cotton footed sleeper comes in so many colors! And how perfect are these H&M striped sandals and cotton sun hat for summer? I couldn't resist!
If you have been trying to find the perfect teether, don't worry – I've found it for you! This Comotomo teether has saved our life during this teething season. It's made to mimic baby's little fingers that she already loves to chew on. Plus, it's easy to hold and grab for even the tiniest hands. Our baby started teething at 3 months and this was the only teether that she would/could use. This teether is made out of silicone, meaning it's dishwasher safe AND it's only $6! Like what? Get it. You won't regret it.
We are book lovers in our house so I'll use any event as an excuse to add a few more to her bookshelf. I chose one for development and learning like this colors book. Then I chose a sweet one for before bedtime. We've had Bear Hugs for a while now and it quickly became one of our favorites. I even have it memorized!
#4 – Throw in something pretty.
For months now I have drooled over these etched wooden blocks. They are functional, whimsical, and make great room decor and picture props. They are a little on the pricy end for toy blocks but I think that they make a great special baby gift. Perfect for a baby shower too!
#5 – Find a company that you love and support them.
Our family believes in prioritizing supporting companies that do good for the world and not just their company. At Cuddle + Kind they do just that. They are a sweet family of 5 that are on a mission to help feed children in need. They make the most adorable hand-knit dolls and for every doll sold, they give 10 meals for children in need. You can read more about the company here. To see their dolls and gift bundles, click here.
To Shop The Gift Guide: